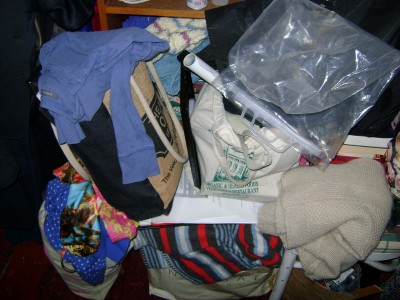 My landlord visited my flat recently, and saw all the bags of stuff I am storing up for the shop, as well as the clutter I am not giving up. "You have a lot of stock", he said "That is fine. But you should not bring in anything more."
I was glad to hear that I have a lot of stock, but I did not want to lose my tenancy so I started to move stuff to my mother's house. She will not evict me because I do not live there. My old bedroom is now full and I have started taking over the guest room for sorting purposes.
It's time to sort because I'm finally working out how to display the goods in my shop. There are lots of possible ways to categorise the things I loved, things I still love, things I made,  things I regret buying, things I picked up off the street, things people gave me but I don't know why etc. etc.. It is going in the direction of putting objects into groups with a name, such as: "You say Tat, I say Treasure" and "Presents: welcome and unwelcome".
I'm starting to struggle with the realisation that my things will be going for good, and I was showing my friend Deirdre all the stuff I am hoping to reclaim. She was laughing at me and advising I label these "high risk" and keep them near me in the shop, at all times!  Perhaps I should tie them to me, or carry them around in a bag, or hide them in the shop and see if they get found by someone who wants them as much as me…