The great news is we have found a venue for the shop! It will be in the former Smock Alley Café, on Smock Alley Court which is off Parliament Street and really in Dublin 8 although most people think of this area as Dublin 2… Hmm, I think I will add a map.
It's a lovely space, and used to be a fantastic café. I'm very grateful to Lynsey Ní Rainaill and all in Temple Bar Cultural Trust for letting me use it.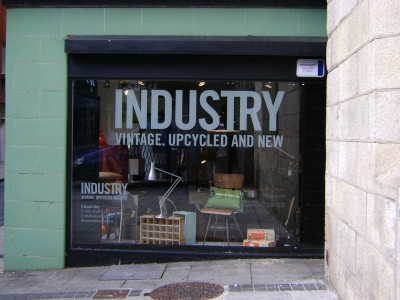 Thanks too to Irene O'Mara from the Performance Corporation (who are producing Help Me! Help Me!) for trying to get hold of various landlords, and to everyone who suggested possible homes: Delwen, Ann- Marie and Tom to name but a few. I can only name a few because my short term memory is getting worse, and will be in shreds by the end of September, so please remind me who you are if you come into the shop and I look dazed and confused.
The Help Me! Help Me! shop will be next to another shop, which sells very attractive merchandise, some of which has been "upcycled"! I think my stuff is more in the "downcycled" category.