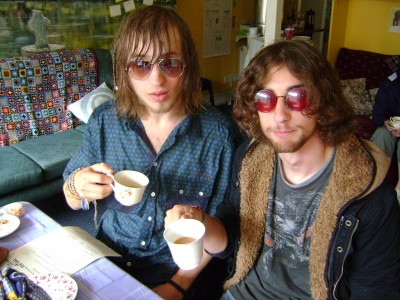 Today is the National Campaign for the Arts Action day, and artists are doing things all Ireland to show  the importance of the arts in Irish life. This post is about an action I want you to take for me…
People have been offering me their stuff to sell in the shop, but I have too much clutter of my own. So I am not accepting donations of stock from people, except my mother. She gets to be an exception because she had a role in my last show, and she is finding it hard to sit this one out.
So no donations of your unwanted things, but here is another exception: I would love people to donate their unwanted LPs, cds and cassette tapes to play in the shop.
I ran The Robinsons' Sunday Roadshow Café in the Clonmel Junction Festival last year. I was trying to recreate our family Sundays, and this included playing old family records, a lot of which were hymns and spiritual tunes, with titles like Country Western Hymnal and Gospel Songs and Spirituals for Little Children. (Thanks to my older siblings' musical taste, Neil Young's Harvest was also in the café and was easily the most selected record.)
Some lovely, local teenagers adopted my café and visited often. Matthew and Thomas took pity on my record collection and loaned me a few of their own. I can't remember exactly, but I think it was ACDC and Black Sabbath, which didn't fit in with the Robinsons' Sunday theme but made a great change from the hymns!  
So here is your chance to put Help Me! Help Me! on a track – pun intended – it might not otherwise go on. Records, cassettes and cds accepted in the shop from 12pm Thursday 23rd September. Or post to Priscilla Robinson, c/o 45 Pearse Street, Dublin 2, Ireland.
p.s. Big thanks to Ali White who came up with this idea of only playing music people donate, during one of the talk shops I organised, where people drank tea and talked about  charity shops!