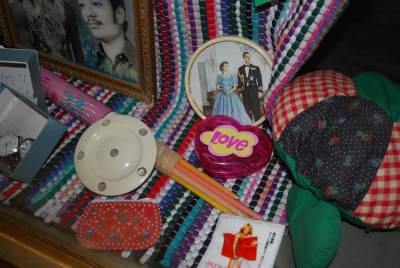 Well it is nearly here. Only one day to go and the shop must open! After some panic and denial things are taking shape. It wouldn't have happened without a lot of help! A full list of people I want and have remembered to THANK can be found on the Thank You! Thank You! page of this website – fantastically designed by Victor Terenetiev.
It is fun being in the shop venue now, as people pass by and want to know what is happening. Today I got asked for a job, and someone wanted to sell me her homemade sushi, and lots of people asked if I will take donations of their stuff. Irene O'Mara, the Performance Corporation Production Manager kept things on track brilliantly and designer Catherine Murphy has finished her lovely window display – letters supplied by my mother and photos by me.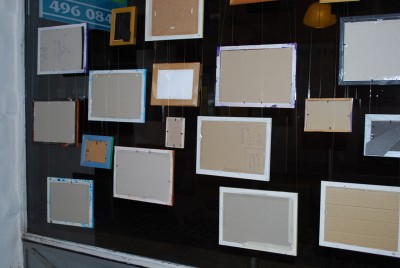 We started to count the things in the shop and there are over 600.
It is slightly scary realising how many things I have, and these are just the ones I can do without! I hope it all goes, or almost all. It is hard not to take some things back and the treasure I am finding hardest to part with is labelled High Risk.