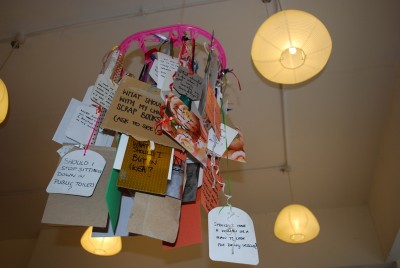 Day one went great! I got help with over 25 things and said goodbye to lots of treasure.
A neighbour from the apartments next door was our first customer at around 12.05pm, she gave me advice on driving lessons and took a green coat.
Jo Mangan was the first person to take something from "The Tat or Treasure Trolley", Shane Carr won the 3 o'clock quiz easily, and my mother entered the shop just as someone was helping me with the question: "How can I know if I have really cut the umbilical cord from my mother?"
Help yesterday included: "What should I buy in Ikea?" answered by a six year old, "Which of the classics should I read?" "How can I get on better with my family?" and "How can I spend less time worrying about things that probably won't happen?"  (I will post up more and some answers when the shop is finished.)
Marketa from The Performance Corporation answered one of my favourite quesions so far… "Show me the contents of your handbag and give me something from it that will help me!"  But I am not saying what she gave…
Thanks to the Fringe volunteers Rachel and Gail for all the dish washing and help with telling people what is happening, and of course to production manager Irene O'Mara for doing everything that needs doing.
Lots more stuff in the shop and lots more needs – including "Bring your favourite cake to the 3 o'clock tea, cake and chat"… 
See you if you can visit and please, don't forget to ring the bell when you enter!